Are you using Facebook groups to promote your business? If not, you may want to reconsider. Facebook groups are a free and relatively easy way to market your business. In addition to the numerous lead generation opportunities, Facebook groups can provide you with a platform for establishing yourself as an authority in your industry.
Joining a Group – From your Facebook profile, click Groups, under the Explore section. Then use the Discover groups tab to navigate through different groups, look for groups that align with your company's culture. Once you have found your target groups, either join or ask to join. Remember, the goal of being a member of a group is to offer value to the community.
Creating a Group – From your Facebook business page, click Create Group. You can create a group from your personal profile, and link it to your business page using the Edit Group Settings. Fill in the required information, configure your group's privacy settings and click Create. By default, your Facebook page is the admin of your group but you can add your personal profile if you would like. Fill out important information about your group under Edit Group Settings. Add a cover photo (828 x 315 pixels) and you are done!
Creating relationships with your client base has never been so easy – don't miss out on the powerful marketing opportunities that Facebook groups offer!
What's new for July 2019?
Events you are attending

Holiday hours

New staff

New hours

New services

New products

Monthly promotion

Birthdays

Weddings

Anything else?
This month's featured product!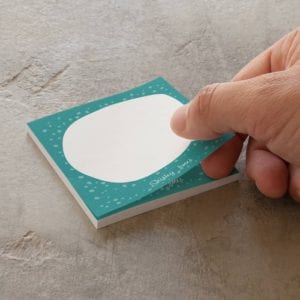 Sticky Notes
Get organized and personalized.
Great for home, office, gifts and more.
Customize one of our designs or create your own.
Adhesive 3" x 3" sticky note pads with 50 sheets each.
Email nikole@shieldbar.com for pricing on design and printing of your next signs, posters or marketing materials!
Here are the U.S. holidays and observances for this month:
  4: Independence Day