We all know LinkedIn is a networking platform that professionals use to post jobs, work histories, resumes, and other supporting material. But it can also be used to communicate directly to other users who fit your target demographic. With nearly half a billion members it's one of the most underrated tools business owners use. If used correctly, LinkedIn can help you establish your authority in your field and attract leads.
Here are five easy steps you can take today to have your LinkedIn profile working to identify and engage with your potential prospects:
1. Take a look at your LinkedIn summary. Does it convey the value that you bring to your customers? Your company summary should make your potential customers feel like you understand their problems and have a solution for them. The main objective is to instill confidence in your skills and expertise to help them overcome their current obstacles
2. Leverage your LinkedIn feed to share content that demonstrates your expertise. Keep the focus on topics that you are an expert at. Your content should show your audience that you not only have the knowledge, but you also have the skills to get the job done.
3. Customize your LinkedIn conversation starters for the initial outreach. Have a game plan before reaching out for the first time. Make sure that you are giving the recipient some context of who you are and what you offer.
4. Keep an eye on your notifications for special occasions to celebrate. Monitor birthdays, work anniversaries, promotions, and use these opportunities to engage with prospects.
5. Create InMail and Messaging scripts to keep conversations flowing into your sales pipeline. Writing compelling scripts will help to move potential customers out of Linkedin into your sales process.
With nearly half a billion members LinkedIn is a great resource for capturing leads. Nurture these relationships by checking in regularly. You can use native prompts to start conversations that will engage people in your network; this is a sure-fire way to build trust and awareness. Once you have made those connections continue to build trust so that you can follow up with conversations about your products and services.
What's new for November 2019?
Events you are attending

Holiday hours

New staff

New hours

New services

New products

Monthly promotion

Birthdays

Weddings

Anything else?
This month's featured product!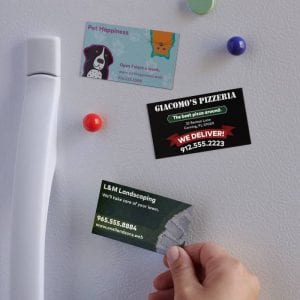 Magnetic Business Cards
Convenient cards that people keep around.
Full-color printing
Lots of professionally designed templates
Order quantities from 25 to 5000
Email nikole@shieldbar.com for pricing on design and printing of your next signs, posters or marketing materials!
Here are the U.S. holidays and observances for this month:
  3: Daylight Savings Time Ends
11: Veterans Day 
28: Thanksgiving Day
29: Presidents' Day