So you've got a new product, and you are ready to share it with your customers. You are confident that this product will change lives, you've done your due diligence and have narrowed down your target audience, you are a pretty decent writer, how hard can it be? You sit down at the computer to shoot off that first email and – you draw a blank. You know that you need to tell a story with your words to promote your offering, but how exactly do you do that?
You know you need to draw in your audience but how? What are the best intros? What details should you add? And lastly, what order does it all go in? If hiring a copywriter to create that custom sales funnel, email sequence or Facebook ads is out of your budget then try this tried and true copywriting formula.
Problem-Agitate-Solve
Your copy would start by describing your customer's frustrating world with said problem. It would then agitate that problem – what if it doesn't go away, but instead gets worse, grows, and takes over? And lastly, your copy should position your product as their answer.
This copywriting formula works by:
1. Letting your audience know that you understand the problem they are facing.
2. Explaining in detail what will happen if the problem is left unchanged.
3. Lastly, it lets your audience know that you have the resources to solve their problem.
The Problem-Agitate-Solve formula will work for almost any copywriting need: email marketing, blog posts, Facebook ad copy, or even a sales page.
If you've narrowed down your target audience, have a good understanding of the problems they are facing, and a product that solves that problem then this copywriting formula is sure to grab some attention!
What's new for March 2020?
Events you are attending
Holiday hours
New staff
New hours
New services
New products
Monthly promotion
Birthdays
Weddings
Anything else?
Here are the U.S. holidays and observances for this month:
March 6  Employee Appreciation Day
March 8  Daylight Saving Time starts
March 17 St. Patrick's Day 
March 29 National Vietnam War Veterans Day
THIS MONTH'S FEATURED PRODUCT: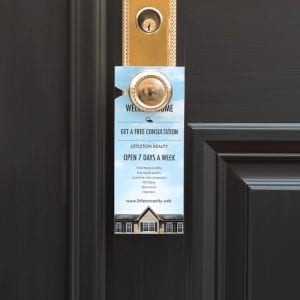 Door Hangers
Put your message in a spot people just can't miss.
 Durable (14pt), sturdy card stock with glossy UV coating on one side
 Sharp, full-color printing
 Tons of professional designs to choose from
Let us help you with your design!
Email nikole@shieldbar.com for pricing on design and printing of your next signs, posters or marketing materials!