Do you attend live events? Are you wondering how to maximize your networking efforts at events?
We have a 4 step plan that will allow you to identify and connect with prospects through social media before, during, and after an event.
Industry events are still significant opportunities to meet consumers, but the marketing landscape has changed. In today's world, you need to approach your in-person marketing with digital and social marketing tactics in mind to stay competitive because prospective clients are engaging with businesses dozens of times each day instead of waiting to attend an expo.
#1 Develop a Pre-Event Prospect List
Before the event even begins, use social media to connect with as many contacts as you can. By the time you get to the show, you should have at least a few good meetings on the books already. Email your clients to find out if they're going and if they know anyone else who's going, offer a freebie bonus offer to incentivize the engagement.
#2 For Pre-Event Outreach Leverage LinkedIn, Twitter and Email
At an event, you're one vendor out of hundreds. If you can start to build familiarity ahead of time, prospects are more likely to seek you out personally or check your booth out during the show.
#3 Use Geofencing and Custom Audiences to Deliver Targeted Ads to Prospective Buyers During the Event
While you're working your usual in-event organic posts of sharing photos, videos, and updates from the floor you can use targeted advertising to extend your reach. If you have an event list from the organizers, you can use it to target those specific attendees. If you don't have an attendee list, you can use geofencing to get in front of your event leads. Using the name of the building the event is in, you can target with surprising accuracy the devices that are present at that event.
#4 After the Event be Sure to Establish a Social Media Connection With Warm Leads
Just as most businesses don't do pre-show marketing, even fewer do post-show marketing. This gives you another opportunity to leverage your event participation to build a conversation, even if you never actually met the person at the event. If you have collected a person's email through one of the prospecting efforts described above or perhaps handed to you on a business card, email them directly.
What's new for May 2019?
Events you are attending

Holiday hours

New staff

New hours

New services

New products

Monthly promotion

Birthdays

Weddings

Anything else?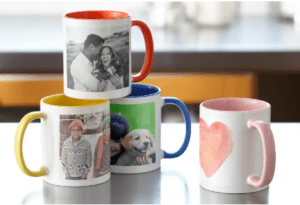 This month's featured product!
Personalized Mugs
Brighten up your beverage.
Dishwasher- and microwave-safe ceramic
2 sizes available: 11oz and 15oz
Personalize with photos, messages and more
Black and white mug exteriors available
Email nikole@shieldbar.com for pricing on design and printing of your next signs, posters or marketing materials!
Here are the U.S. holidays and observances for this month:
  10: Military Spouse Appreciation Day
  12: Mother's Day
  15: Peace officers Memorial Day
  18: Armed forces Day
  25: National Missing Children Day
  27: Memorial Day